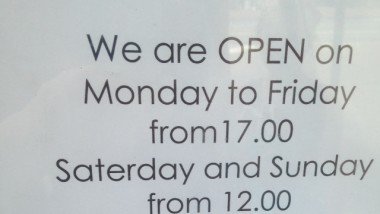 Spelling the days of the week
Hi all,
Welcome back to my blog after many weeks of glorious summer holidays. As we all need some time to settle back into routines get used to alarm clocks, I'm keeping this week's blog extra short and simple.
In English, the days of the week are always spelled with a capital letter (not the case in Dutch).
Saturday is spelled with a 'u' and not with an 'e' (as spotted in the picture I took outside a restaurant in Amsterdam)
Wednesday causes the most spelling confusion, as one does not pronounce the 'd'.
Here are all the days of the week in a row: Monday, Tuesday, Wednesday, Thursday, Friday, Saturday & Sunday.
Hope it helps,
Laura